a few weeks back, the wonderfully kind people at
Younique Nails
sent me two bottles of their AQmore polishes to review.
i bet you're wondering what
AQmore polishes
are... well, they are water-based nail polishes. the polish is made up of 50% water! [if you click on "AQmore polishes" there is a link that will take you to the site and will provide you with more details of what AQmore polishes are all about.] and with the AQmore polishes, you do
not
use a base coat and should use their AQmore line of top coats.
on to pictures~
arent these beautiful? the bottles are so adorable!
Bloom Pink
and
Gold Sand
are shown above.
a little piece of foam was also sent in the package. all you do is try your AQmore polish and a regular polish. in this picture, this was one coat of Gold Sand and once coat of OPI's
What's With The Cattitude
?. you can see that WWTC pretty much melted the foam... or as i like to say, it "ate" the foam. [haha]. i was so wowed by this!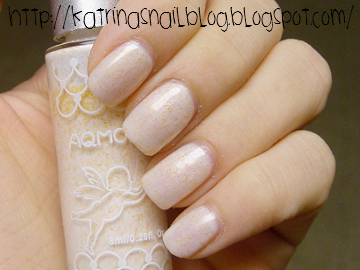 4 coats of Golden Sand and 1 coat of Bloom Pink. yea, this is 4 coats, but i loooove this color so much, i didnt care! plus, the drying time was great. Bloom Pink is [obviously] just a clear top coat and inside the bottle is a little flower - so adorable!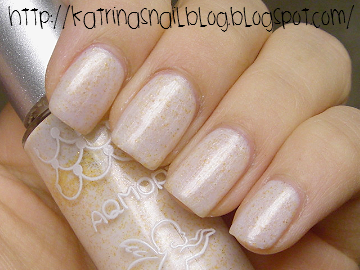 click on this picture if you wanna see a bigger view of it. just something to mention, the gold specks are a bit more noticeable in real life.
i will say that the top coat does not dry as quickly as the polish itself. so you have to wait a little longer after you apply the top coat.
something that i really, really like about these is the smell. remember how i said the polishes are 50% water-based, well, because of that, this polish does
not
smell like regular nail polish! it smells kind of like Elmer's glue but the smell isnt too strong. the top coat -to me- smells like a very light smell of spray paint.. but my sisters both say that the top coat smells like Seche Vite's top coat, but not as strong. but what is even more awesome is that...when you apply the AQmore top coat onto your nails, the smell of the "glue" immediately disappears. then, you'll be able to smell the "spray paint"/"lighter version of Seche Vite's top coat" for a quick instant and then the smell quickly disappears too.
this, totally, wowed me!
ok. another thing to mention...AQmore has a "peel-off" removal, where you can just peel off the color. and it works amazingly! it came off in one peel -maybe 2 or 3 peels on some nails- and it did not lift or peel any layers of my nails! -again, totally wowed~!
i got a lot of compliments on my polish color and i really loved the color so much, i wore it for a second time a few days after my first time. [and i hardly ever wear a polish alone -without a design- ... let alone the same polish twice! haha] im not exactly sure how long the polish is supposed to last, but it did last me 2 days each time i wore it, before i picked it off :P i was told that the polish might not stay on well the first time of application because it did not stay on well for some people, but it stayed on well for me!~
i can honestly say that i
love
their products. although $13.90 is not in my usual price range for polishes, i would reconsider it for more of the AQmore polishes.
but i have great news. i was also offered a coupon code for my wonderful readers :) for 10% off your order, use
knail10
as your coupon code when you are checking out. but the great news doesnt stop here! right now, Younique Nails is giving 10% off all of their polishes, so if you order now and also use my code, you'll be paying $11.26 for a bottle of amazing polish. pretty awesome, right? they have such a huge variety of beautiful colors and top coats to choose from. good luck having to decide . haha :) *just a reminder that each bottle is sold separately.
once again, a biiiig thanks to
Younique Nails
for being so kind and sending me these items to review and for also providing a 10% off discount for you guys.
be sure to stop by to
Younique Nails
' site & take a look around!
have a great one!,
<3KATRINA