hi all! i hope you had a great holiday weekend!
i have -once again- another kpop inspired mani!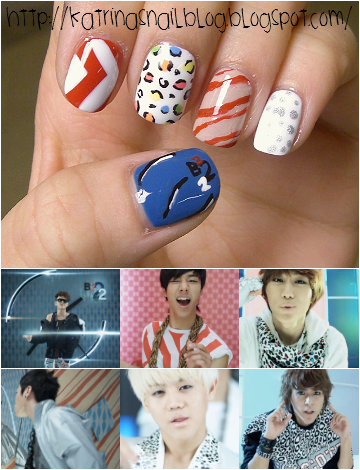 we all know by now that my favorite kpop group is Beast right!? haha well, here's a simple mani i did last night. Bad Girl was their debut song & its such a catchy song. since i only have 5 fingers on one hand & there are 6 members in Beast, you'll notice that i included all 6 members in the picture above. haha
here's the mv;
ok, now i have a question:
what is the max amount of polishes one should send out in a package?
im sending my friends -who live in Malaysia- a package of polishes...and altogether, i have about 30 polishes for them. but i dont want to send all 30 out at once cause that just sounds like too much!...right? so i was thinking i'll send half first..and then i'll send out the other half another time.... ? what do you think?
have a good one,
<3KATRINA