long post ahead, but i have great news at the end of this post so bear with me :)
as promised, today i am going to share with you a review about the items from my
awesome package
. Jessica over at
Born Pretty Store
was ever-so generous and sent my a beautiful package to review.
- - - - - - - -
starting with the nail polishes..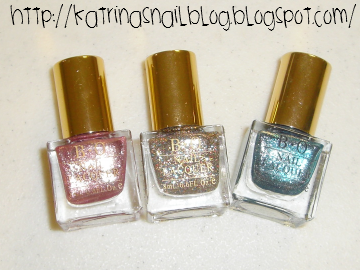 NL B26, NL B32, & NL B33.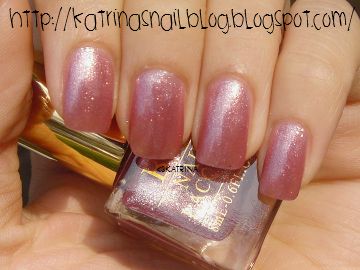 NL B26
, two coats shown. the site describes this polish as "brown" but its not.. its a pretty, dusty-mauve-ish color with tinyyy gold flecks.
NL B32
, three coats. the site calls this color "gray" but thats not very accurate either. this one is tons of gold glitter with lots of red and turquoise-y glitters.
NL B33
, three coats. beautiful, dark turquoise with silver flecks.
the bottles and brushes are pretty small; my hands look huuuge in the pictures above. haha. the bottle contains 8ml of polish; although the brush is short, it was easy to work with; application was great for all the polishes. there was one thing that i didnt like about the polish - the smell. the polish smells like a nail salon; so it literally smelt like nail polish and lots of acrylic. i had to paint my nails outside because i didnt want the house to smell like acrylic [my parents wouldve killled me!]
Born Pretty Store
nail polishes
run at $3.19 a bottle and they have over 45 different colors.
- - - - - - - -
onto the image plates & the acrylic molds...
i used image plate m39 in my not-so-Halloween mani-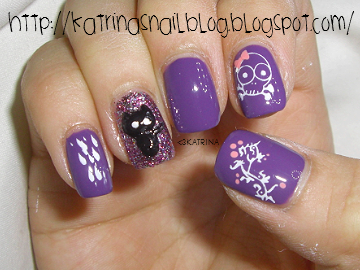 let me start out by saying that the acrylic molds are my favorite! they're so easy to use and they are so cute! in my mani, i did 3d acrylic kitties. i didnt have black acrylic powder so i made my kitties with white acrylic powder and then i just painted them black.
i've also used my bow mold and its the cutest thing everrr! i love it! the
molds
are sold at only $2.26! what a deal! BPS sells a bow mold, a kitty mold, and a stars + moon mold. there are different sizes of each shape on the mold.
the image plates are so cute! but applying isnt the easiest. when using Konad, you apply the polish, scrap off the excess, and then roll your stamper across the image, and roll the image onto your nail - right? well, BPS image plates dont exactly work like that. i tried those steps when i first used the image plates and most of the image wasnt picked up. but i learned the trick: instead of rolling across the image to pick it up, you have to PUSH DOWN on the image. every other step is the same though.
i used my white Konad stamping polish for the mani above. besides for that one issue about picking up with image, everything worked great!
image plates
run at different prices over at BPS, between $3.49-$22.32 ... depending if you buy one plate or if you buy the package.
- - - - - - - -
i still havent tried out my pack of nail art candy decoration, glitters, or pack of dried flowers yet, but im sure i'll love them as well :)
- - - - - - - -
ok, onto the good news! Jessica is kindly giving my readers free gifts until December 31. so pay close attention here;
- the first 100 visitors that register with over at that
Born Pretty Store
website can get hello kitty template
for free
. you dont even have to purchase anything. the hello kitty template is
this one
. im not sure if you'll get the scraper & stamper or not though.
if you just want the hello kitty template and do not plan on ordering anything else, the code is
K388
. put that as the coupon when checking out.
- - - - - - - -
- all of you who order from BPS will get 1pc Christmas
nail sticker
for
free
, no order amount limit!
- if your order amount is more than $20, you will get the
1800 NAIL ART RHINESTONES Glitter + 3g PRO Acrylic Glue
for free!
- if your order amount is more than $50, you will get one color
cracking nail polish
for free INSTEAD of the rhinestones & glue.
- if your order amount is more than $80, you will get the
nail art glitter balls
for free INSTEAD of the rhinestones + glue & the crackling nail polish.
- if your order amount is more than $100, you will get all of the items listed above PLUS a
12 pack template with stamp
for free.
if you plan on buying items, you WILL get the Hello Kitty template as well as the gifts that are according to your order amount. the code you would use at the checkout is
K2010
. be sure to enter that code as the coupon.
- - - - - - - -
just to clarify one more time..
- if the order is $2, you will get the items you ordered, plus hello kitty template, plus the xmas sticker.
- if the order is $60, you will get the items you ordered, plus hello kitty template, plus the cracking nail polish.
- if the order is $120, you will get the items you ordered, plus hello kitty template, plus xmas stickers, plus the rhinestones, plus the cracking nail polish, plus the glitter balls, plus the 12 templates with stamp.
- - - - - - - -
i am in no way, whatsoever, make any profit off of this. Jessica is just really sweet and is offering this to my readers only..so please take advantage of it!
i hope you ladies [and/or gents?] do order something, i know i will order more for myself! if you need help placing orders,
here
is a description of how to place them. BPS does ship internationally and
here
is the overview of shipping costs. everything on the site is in US dollars & BPS is currently doing payment by paypal.
remember to check out the
Born Pretty Store
! and again, a big thanks to Jessica!
thanks for making it through this post with me :) if you have any questions, please feel free to shoot me an email.
have a great day!,
<3KATRINA