in my
last post
, i posted how angry i was that i missed my package..and that i had to wait until today to get it, i'll share with you what was in that package.
i woke up earlier than usual today so that i would be able to pick my package up from the post office first thing in the morning. with that being said...
i have my package in my hands!
[ just sayin'...i usually dont get mad for missing the mail man/a package & having to wait two days to pick up the package..but this package was too AWESOME that i was super mad i missed it! =P ]
here it is! the beauties that i've been waiting for! *drool.
last week, i received an email from
Jessica
over at
Born Pretty Store
to review some products - - of course i was more than willing to! Jessica was so sweet and she even let me pick out the items i wanted to try ♥ within three days or so, my package "came" to me [obviously, i missed it & i had to pick it up today.] - - so withing the next couple days to the next couple of weeks, expect some reviews coming your way :)
lets get a close up of the items, shall we?
three beautiful polishes!
NL B26
,
NL B32
, &
NL B33
.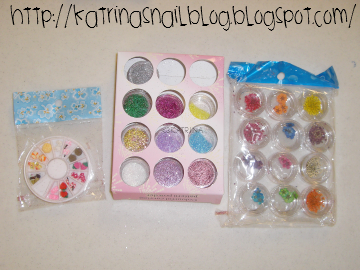 a pack of nail art candy decoration [just the cutest!], a pack of glitters [sadly, two of the glitters opened & spilt inside the box during the ride over], and a pack of dried flowers [<3333]!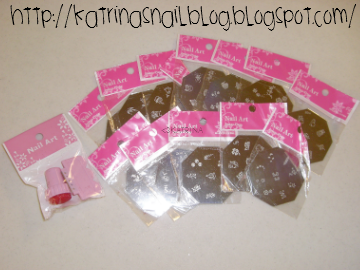 this one surprised me the most! Jessica sent over - not one, not two, but
twelve
image plates & a scraper + stamper!!!!! ♥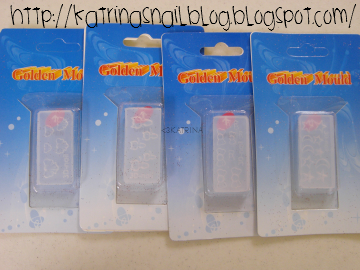 lastly, i got 3d image molds!! oh my gosh, i've wanted these for FOREVER & Jessica was so sweet & sent me 4 different mold designs! the pictures arent clear because the flash makes the images disappear in pictures so i had to use a picture w/o flash.. but i'll describe each mold for you. - - a bow with tails mold; a kitty mold; another bow mold but the bows dont have the tails; and stars & moons mold! - there are different sizes of each design on each block thingy.
now you understand why i was so mad when i missed my package on Saturday, right? :)
a
biiiiiiiiiiiiiiiiig
thanks to Jessica and everyone over at
Born Pretty Store
for being the greatest and letting me pick out what products i liked...and for sending me so many products to review ♥
they have so many more items that i loved & the prices are GREAT! i'll probably be ordering from there because i looooved everything so much!
hope your day is great,
<3KATRINA