hi, hi~ i hope your weekend has been well so far :)
here's a mani i did a few hours ago..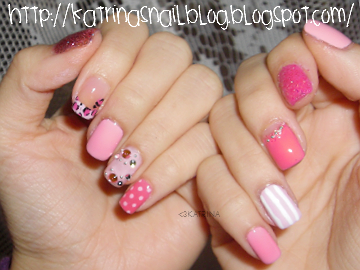 i mashed up a whole bunch of pink polishes & design for this. since October is Breast Cancer Awareness month, i wanted to sport a fully pink mani. [& October is also Depression Awareness month so i plan to do a fully green mani too.]
i honestly dont remember what polishes i used..so i wont even try to name em. sorry~
i THINK i know which polishes i used..since i left a biggo pile on my computer desk =P lets see.. from left to right, from thumb to thumb..:
Icing
Paparazzi
with 2 hot pink glitters; China Glaze
Something Sweet
for the tip & CG
Rich & Famous
[& black polish] for the cheetah print; Wet 'n Wild
True Love
, Essence
Sweet As Candy
, OPI
Elephantastic Pink
+ CG Something Sweet for the dots. then we have... Color Club
Angels N' Pink
, CG Something Sweet + white lines, China Glaze
Sugar High
, China Glaze Rich & Famous + glitters, & Essie
Beach Party
.
wheph! i think thats right! =P
anyway, i have a mini story to share today.
i've been waiting for my package to come in allllllll week! and my brothers missed the mail man today & so i got this notice instead. right after i found the notice, i drove straight to the post office in hopes to pick it up before the post office closed at 2pm… but the package wasnt back from the mail man yet so now i have to wait til Monday to get my package. daaaaaamn. it was a bad ass package of nail stuff & i wanted to play with my new stuff. shiiiiiiiiiet. - - - but i guess i can wait til Monday morning.
thats it for me!
have a great rest of the wkd!,
<3Katrina