hi~ quick post tonight.
first off, any of my pictures beyond my last post will not be working / showing until next Sunday. i reached my max bandwidth on my photobucket - again. sorry. it sucks.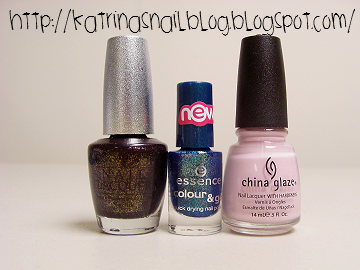 on Saturday, i went to Ulta - again. i ended up buying OPI
DS Mystery
, Essence
Choose Me!
, & i finally found China Glaze
Something Sweet
. !!
2 coats of OPI
DS Mystery
. a deep eggplant with gold flakes. you cant really see the mass gold flakes in this picture, but thankfully, you can see the tonsss of gold in the picture of the bottles. i got bored with just DS Mystery so i free-handed L0VE onto my nail.
ah, yea. this post is much shorter than i thought.
hope your week starts out great,
<3KATRINA