hi!~ i havent had a mani post in a while. i've lacked lots & lots & lots of inspiration lately so i've been doing nothing but simple/boring stuff.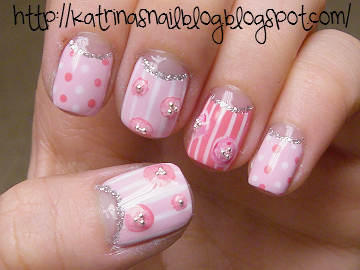 i forget what pinks i used here. but i HATED this mani so much, i took it off the day after i finished it.
black matte + shiny leopard print + rhinestones & pearls. i liked this one. too bad it didnt last a full day at work :X
i think this is 4 coats of China Glaze's
White Cap
; 3 would have been fine but i went with 4 anyway. let me just say.. i LOVE White Cap!!~ these pictures dont do any justice.
yea, i think im done here. :P hope you're enjoying your weekend! its snowing like CRAZYYY here in Michigan...looks like i'll be home for the rest of today :P
have a good one!,
<3KATRINA