hi~ hi~
here's the mani that i've been sporting for the past few days;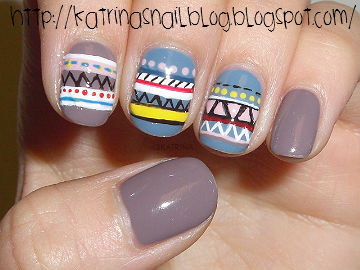 2 coats of China Glaze's
Channelesque
& 2 coats of Forever 21's Love & Beauty
Dusty Blue
. - - - can you believe i found a bottle of Channelesque?! i was so happy :) too bad its non B3F so it was a total stinker >__<
uhm, the tribal print thing has been going around tumblr for a while so i decided to give it a try. i kinda like it.
here's a realllllllllllly short video tutorial of my gold glitter gradient from a while ago.
i know there's other ways of doing a glitter gradient, but this is the way i do mine :P and i know, the quality sucks. oh well.
im done for now...
hope you're having a good one!,
<3KATRINA