today was my first day of classes for the semester in my third year at a community college. i have two classes on campus - History & Politics - and im also taking my very first online class - an English class. back in high school, i was a VERY good student. i did everything on time, always did my homework, always studied, i've always been at the top of everything, and i graduated with a gpa higher than 3.8 ... ever since i've been in college, i've been a slacker, i skip classes, dont ever study, and i've been "average" in school. [not that being "average" is a bad thing..but thats just not my thing.] this semester, i REALLY want to do well. my classes are really time-demanding. im also picking up more hours at work on the days that i do not have classes, so im pretty much jam-packed. so i can
not
guarantee lots of posts - not that i post very often right now anyway -__- ; but you know what i mean right? please bare with me~
that felt like a semi-heavy-mood-downing beginning of a blogpost. sorry! i just had to let you know.
well, let lighten things up with some random China Glaze swatches~ i wanna mention that my nails are short right now, and when i swatched these polishes last week, i had to put on fake nails cause i like swatching with full nails and not little nubbins.. =P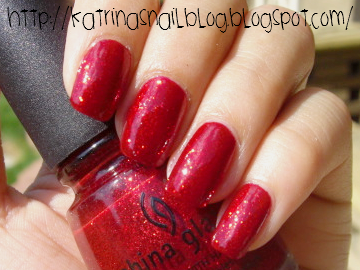 i have here 3 coats of
Ruby Pumps
. definitely a gorgeous red glitter jelly polish. i like this polish but i dont like it as much as others do.
3 coats of
Emerald Sparkle
. the picture is a bit blurry but it was the most color accurate picture i had. its a beautiful emerald glitter polish.
3 coats of
Watermelon Rind
. kinda blue-teal-green-ish with glitter.
3 coats of
Ingrid
. beautiful taupe-ish-brown with gold shimmer.
2 coats of
Entourage
. theres a slight shimmer in the kiwi-green polish.
2 coats of
Bahamian Escape
. my favorite. sky blue creme.
on my nubbins, i have 4 coats of
Dreamsicle
. this one was disappointing to me. its a beauty in the bottle, but i didnt really like it on my nails. i probably should have put a colored base on before i applied Dreamsicle. orange base polish with different size opalescent glitter. this is how the polish looks in real life - regardless of the bad picture. it looks prettier in pictures [better lighting pictures - that is] but i posted this one so you'll know how it really looks.
this is all i have for now. thanks for tuning in :)
hope you have a great week,
<3KATRINA