first off, thanks SO much for the birthday wishes! ♥ ♥ ♥
i know i sounded all depressed & it seemed like i wasnt looking forward to my birthday in my last post, but i wasnt depressed or anything. its just that...whenever i have high hopes for anything, especially a good day, anything & everything
will
go wrong. you do
not
know how bad my luck really is. so i always try to keep my hopes low cause i've been let down too many times -__-
but my birthday was pretty good! MUCH better than i expected. i worked for a good...6-7 hours & then i went out for dinner a Korean restaurant with my friends. thanks for all of you who hoped with me that the cute waiter was there..cause he WAS there!!!!! :D although i didnt get to stare at him often, i did get a few good looks at him [creeperrr. dont hate =P] i also got a free cheesecake from our waitress. oh, and my friends and i usually dont get each other presents on birthdays [we just usually eat & hang out] but i was surprised when a few of my friends bought me nail polishes, a shirt, and gave me a $10 gift card to Sallys ;)
here is a picture of my ugly birthday manicure.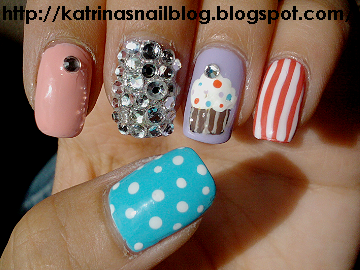 totally random but thats how i usually do my nails =P i dont remember what polishes i used cause i was up til 2am changing the manicure. my middle finger is totally covered up in rhinestones; i've always wanted to do that so i figured that doing it on my birthday would be the best time :D i still dont like the mani but i dont hate it as much =P
i'd also like to add that i went to my second year of Korean class today ;)
seriously, i didnt make up my mind about class until last night RIGHT before i fell asleep. i was sooooo nervous for class today; i dont know why, but it went well! i need to study hard to prove to my parents that this class is worth it! i was also reallllly nervous to come home because i knew my mom would be pissed. which she was. well, she wasnt as mad as i thought she'd be, so that was good. [sarcasm] i got a REALLY GOOD lecture from my mom. [end sarcasm] but she'll be fine & get over it.
i wanna give a big
THANK YOU
to everyyyy single one of you for caring & supporting me & helping me. ♥ ♥ ♥ ♥ ♥
you ladies are awesome!
hope your weekend has been great,
<3KATRINA