first off, i'd like to thank each of you ladies for giving me your thoughts and advice on my personal post last night. it really means a
lot
to me and i really appreciate you taking your time out to read my jibber and then give me your insight on the situation. i've read each comment a few times and im taking what you ladies say to heart; im still trying to add everything up together in my head so i still dont have a final answer. but thank you so, so, so much! if i could hug each of you, i really would :)
as i promised, im gunna lead this blog straight back to nails :) here is a few manis i've had over the past month in a half - i've just been behind on posting =P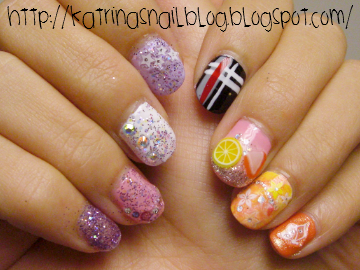 i actually think this was from 2 months ago; haha. i was trying new designs & my younger sister, Kiana, let me practice on her. this is unusual because Kiana doesnt EVER let me paint her nails so while i had the opportunity to do her nails, i took it! :D doesnt her hand position kinda look funny? HAHA.
on the left side of the picture, i was using my new nail glitter that i picked up at Meijer. its just a purple glitter so i tried it over different colors. i believe the pinky is just fully glitter; no base color. on the right side of the picture, i was practicing plaid on the pointer finger. the middle finger has some fimo fruits along with a glitter gradient down the nail. i tried sponging on the ring finger; it actually turned out nice but Kiana wanted stickers on it so i added a few stickers. on the pinky, i tried out my new layering polish; it turned out alright and then, again, Kiana wanted a nail sticker on it.
- WOW! my hands look super pale! =/ - this is my first Catrice polish that i won from
Sharana
's giveaway some time last month. 3 coats of Catrice's
Oriental Orange
. the polish was much thinner than i expected but it applied beautifully. plus, this picture was taken after 4 days of wear..and the polish still looks great!, doesnt it? :D
also, last month, i bought my first Konad stuff. i got three plates - m57, m69, & m73. i also got a black Konad polish, the scraper & stamp - obviously - and the image plate holder - which isnt necessary. Konad is much easier than i expected and surprisingly, i havent used it very much yet. this mani was done when i first purchased my Konad stuff. but here is a picture of 2 coats of China Glaze's
Bahamian Escape
. the color is not accurate - its not as bright of a blue as the picture depicts. if you wanna see a better, color-accuate picture, check out my swatch
here
.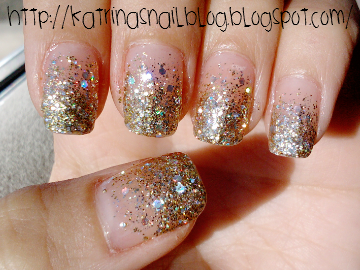 lastly, i have a more recent mani; well, this was from two weeks ago. i tried another glitter gradient using China Glaze's
Medallion
but you cant really see the gradient unless you look really fast & then look away. -haha. i ended up liking this mani a lot although theres not much to it.
i also wanna mention that i still have on my
Teddy Mani
, since Monday night!!!! i cant seem to bring myself to take it off! the mani still looks decent; my nails are [obviously] growing so theres a gap between my cuticles & the design but everything else still looks pretty good!
totally random, but im going on another No Buy next week. i have a few bottles that i need to pick up for a swap this week, and then im done for a while. im only mentioning this because i tend to do better when i publicly say this. its true. plus, my "untrieds" have been piling up! theres about 70 polishes i havent tried so i figure i should put use into those :) wish me luck that i'll succeed!
alright, this post ends here. if youre in the States, you ladies enjoy the holiday weekend! if youre not in the States, still enjoy your weekend :D
thanks much & be safe!,
<3KATRINA